Before you choose the best free IP camera software for Windows 10, its good to know what an internet protocol (IP) camera is.
IP cameras are not very different from a regular web cam camera. One similarity that the two share is that the IP camera captures, compresses and transfers images over a local network (wired or wifi) or on the internet.
To do that, the camera must connect to a network, the same way that a computer, laptop, tablet or smartphone connects. However, when you do not want to spend money to buy this standalone camera, it is possible to convert any device that has a camera into an IP camera. You can do this by using readily available IP camera software.
Good IP camera software does not need to cost you any money. You can find robust software free of charge. Since there are so many of them and they all claim to be the best, we have done the footwork for you.
In this article, we will look at a few of the best IP cameras such as Reolink, iSpy, Night Owl PC software and others.
1. Reolink free IP camera software
The Reolink IP camera software and app is available free of charge. Not only is it compatible with Windows 10, but it also supports other technologies across Android, Mac, iPhone and even older Windows versions.
This software supports a wide range of functions. For example, it can give you a live view of whatever area you are monitoring, has multiple recording options, is accessible remotely and has motion alert.
You can get high quality images and video from your PC, smartphone or other devices. You will get all the functions that this IP camera software comes with without being required to sign up or make any monthly payments.
This software enables you to watch up to 16 channels on the free camera app, from your cameras anytime. Remember, you will even catch this live view on multi-screen streaming. Should you get the Reolink Client, you can catch a maximum of 36 channels from your IP cameras.
While the rage is about smartphone apps such as Camhi for PC Windows 10, some PC ones such as Reolink are really good. Your home security will be under your control.
Download link: Reolink Software for Windows (32 bit and 64 bit versions)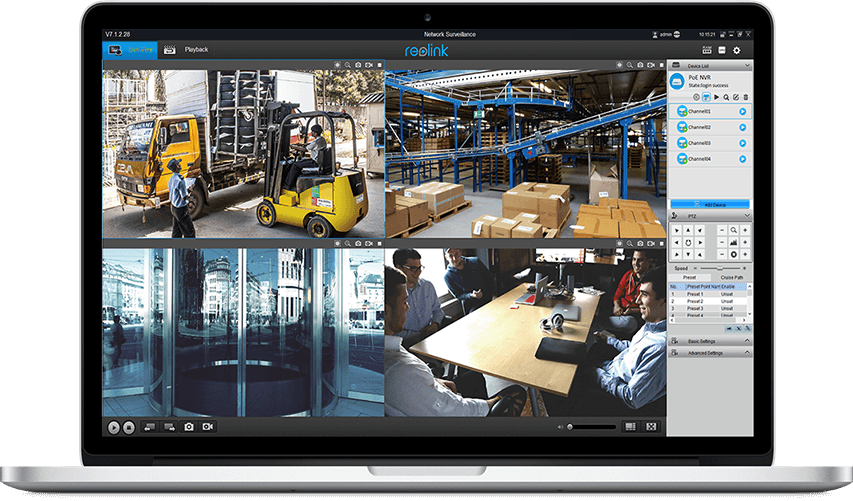 2. Night Owl CMS DVR Software for Windows 10
You can download the Night Owl CMS software for Windows 10 free of charge and you will be able to control up to 100 DVRs from a central location. You can configure several cameras, and which ones you want to watch on your screen. With this software, you cal also store the footage in your PC and watch it later or playback the recordings stored in your DVR.
This software connects your DVR system to your device running on Windows 10 using data. It streams a live video feed over 3G or 4G LTE network.
To use the app on whatever technology (Mac, Windows, Android and others), you have to configure it by entering the name of your Night Owl camera and its IP address.
After that, you can tweak different functions to work with your schedule. For example, you can preset the time that you would like the camera to start recording. You can also set alarm alerts for motion detection.
This software also allows you to change the names of the channels remotely, without having to access the camera. You get a variety of recording modes for the best videos. For example, you can configure the Night Vision mode for recording at night.
The Night Owl download for windows 10 is available via this link. You can also get it directly here.
3. SecurityEye Video Monitoring Software for Windows
This is a feature-rich PC IP camera software but it is still so easy to use. If you know how to use a computer, you will be able to use this software.
Some of the features that you can look forward to include the ability to detect motion. And it does not stop there! When the camera detects motion, it captures the event following the motion. It will capture in video or screenshots or both. The camera then stores the footage on cloud or in a local folder.
Using the task scheduler function, you can set the IP camera to run at the appropriate times. For example, you can set the camera to start recording on the day that you travel or as soon as darkness creeps in. In addition, the software will send you alerts and notifications via email or SMS. The software will also turn on a loud alarm in case it detects motion. This can scare a burglar away.
SecurityEye, which you can download from this link is free. It is compatible with Windows XP, 7, 8, 10 and Vista.
4. ContaCam Video Surveillance Software
This free software is going to help you record and review footage. You can use it for your IP camera, DV devices, webcams and other hardware. Without any need for configuration, this camera will convert your Windows 10 PC into a surveillance camera.
There is a small learning curve. However, once you have mastered how this application works, you can even define what it can record. Just define the time within which your camera can record an event. If the event time span is shorter than the time you have set, it will not be recorded.
The recorded video is in the SWF animation format. It seems a little outdated but it works very well. If you do not fancy this, just go to settings and set the recording mode to be in AVI.
Enable or disable motion detection at will. You can set the camera to start recording as soon as you leave for work and stop as soon  as you get home. It will record within the set time even when you travel, but you can always set the recording time that meets your needs.
You can use this software across a wide spectrum of Windows software, including Windows 10. You can download it from the ContaWare site.
5. iSpy Open Source Camera Security Software
With the iSpy app for Windows 10, you can be able to record and monitor multiple web and IP cameras from one interface.
This is an open source application, which also means it is available free of charge. When you download and install it to your computer, you can monitor devices that have cameras. Unlike the Night Owl download for Windows 10 which is available on mobile, we do not know whether iSpy is available on android or other technologies. However, for a Windows 10 PC, this software does a perfect job of monitoring your home or office when you are away.
To start using this software, you will need to set a webcam in or near the area that you would like to monitor. Connect the webcam to your PC with a cable. You are now ready to use it.
Apparently, you do not want to monitor every area within view. You want to monitor specific areas. You can set the web cam to monitor just a specific area. You can also set parameters for the amount of motion that you want to trigger the camera to start recording.
When you come back home, you will want to view the recordings. Just double-tap on the tray icon within the iSpy app. You will be provided with thumbnails of the recordings. Click to play the thumbnail.
You will probably have to wait to come back home to view your recorded footage. While some mobile spy apps such as the Night Owl PC software can give you control when you are on the go, PC apps such as iSpy are also great. You can download this software from this link.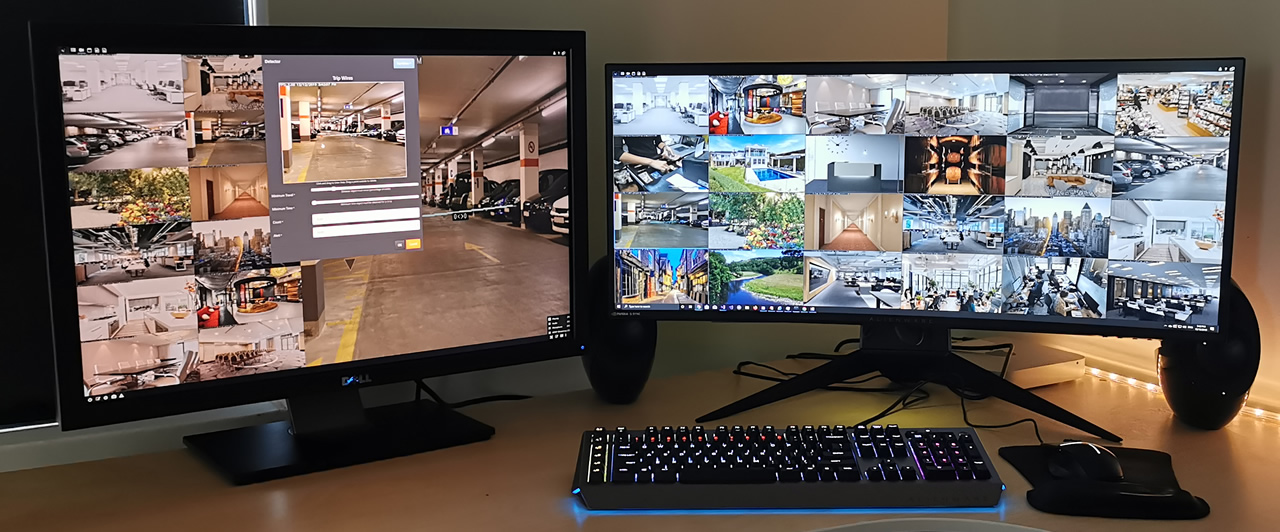 Wrapping Up
For your home and workplace security surveillance, use the best free IP camera software Windows 10. With the several PC apps that we have brought you here, your security is under your control. And just for the price of WiFi or data. Regain the control of your home's smart devices with one of these IP camera software for Windows 10.  Also check out our detailed review of IP camera software.